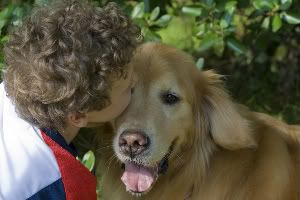 Nice cheery post for around the holidays, right? Sadly we just lost our beloved golden retriever a few days ago.  It was completely unexpected.  He developed a rare and fatal cancer.  He was diagnosed and three hours later he was gone.  We were shocked.  The day before we had taken him for a walk, and he had seemed fine.
While we were relieved that at least it was quick, we are still devastated.  And Thanksgiving is this week. Which brings me to the topic of my post.  I'm writing this on behalf of other pet owners who have lost pets.  I think that it can feel funny to admit how upset you are over pet loss much less how scared you are about the upcoming holidays.  It's just a dog, right?  Except it's not.  It's a loved member of your family.  It's someone that you see every single day.  It's someone who loves you just for being you and is always happy to see you.  You can't pick your relatives, but you can pick your pets. 
As we were planning our Thanksgiving menu today, I realized how truly empty it's going to seem without Merlin.  It's already too quiet here.  There isn't going to be a special bowl fixed with turkey and stuffing this year.  He won't be there to beg while we cook or just plain be underfoot.  When the kids inevitably spill something on the floor  we will have to clean it up instead of letting our furry friend feast on it. 
Then there is Christmas.  What do we do with his stocking?  It's sad to get the catalogs of dog toys and realize that this year we won't be buying any for him.  I found the Orvis Dog Catalog on the counter when I got home from the animal hospital.  It was open to the senior dog bed I had planned on ordering for him.  I don't have any advice to give except to say that I'm going through it too.  We're trying to come up with some special way to honor Merlin this holiday season.