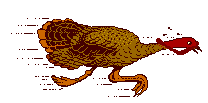 A couple weeks ago I was talking with friends about the upcoming holiday season.  One  friend mentioned that she was looking for ways to add in some exercise to make up for all the pieces of Thanksgiving pie she was sure she would consume.  "Just a little walking though.   Not like those crazy people who do turkey trots."  My ears perked up.  Turkey trots?  
I did a Google search when I got home and found this website.  There's tons all over New England. 
Another friend insists that what was going through my mind at that moment was "I'm a New Englander and I'm crazy!"  Please, I haven't given up my Midwestern claim quite yet!  I decided to do the 6th Annual Wachusett Fitness 5K in Holden, MA because all the proceeds went to a food pantry, and it was reasonably close. 
I showed up Thanksgiving morning all ready to go.  A  lot of people were there.  I heard from people working there that there was 500 people.  People were there by themselves, with friends, with families, with dogs, with turkey hats, you get the picture.  Basically like PD Eastman's Go Dogs Go except with people.  The race started and off we went. 
That being said, while others and I ran, many people walked.  People also walked for a little while, turned around and came back.  They were there to have fun, raise money, and probably preemptively work off a piece of pie or two.  Afterward there was a post-party with a raffle and music not to mention beer.  I however headed the way of many parents there:  to Dunkin Donuts of course.  I picked up some donuts for my kids and coffee for myself.  Maybe a donut for myself too.