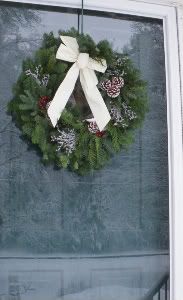 I love Christmas. The lights, the music, the shopping, the planning, the treats, the excitement. (I don't love the wrapping though. I have my limits.)
But our Christmas is a secular one as we do not follow any religion. Anyone who tries to tell me that we aren't celebrating it right because of this had better watch their eggnog.
To me, the Christmas season (which starts the day after Thanksgiving--no matter what the retailers try to do-- and runs through New Year's Day) has so many things to love, it's no wonder it is my favorite time of the year:
I can't wait for the kids to open the new PJ's under the tree on Christmas Eve.
I press coins and dollars into every Salvation Army bell-ringers' container we see, and dig a little deeper to donate food to our local Food Pantry.
I look forward to seeing the photo cards that flood my mailbox with pictures of kids getting ever-so-bigger.
I cry when I sing Silent Night and hear my dad's favorite, The Trans-Siberian Orchestra, even though I'd never be caught dead listening to them any other time of the year.
We visit La Salette Shrine and talk about the crucifixion and I read the story of Jesus' birth to the kids while curled up on the couch.
But, to me, it is just a story.
I am not a Christian at Christmas or at any other time of the year.
I'm not militant about this. I actually like seeing nativity scenes out and about when I drive around, although if they are on public grounds, they'd better be part of a trinity of 1) nativity, 2) menorah (or maybe this is a Hanukiyot?) and 3) Santa. Then I'm ok with it.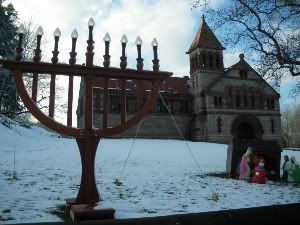 Santa's just down the block a bit
I won't get my panties in a bunch if someone wishes me a Merry Christmas. And telling me that God blesses me sounds sweet, not like indoctrination. We have a nativity set that the kids play with, along with a few Polly Pocket and Playmobil pieces added for action.
But, we also fry latkes, and read books like One Candle for Hanukkah. This year, the kids got gold coins too.
And we definitely wait for the big man in the red suit to come sliding down our chimney. In fact, we have a preview on December 6th when Sinterklaas leaves the kids some treats in their shoes.
It's magic, all of it, and I wouldn't have it any other way.