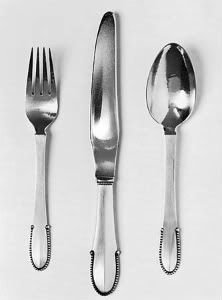 I'd like to meet the genius who invented the popular phrase "finger food" so they could join my family as we sit down to the dinner table and define EXACTLY what is and is not considered finger food. What do I mean? Let's play a simple game called "Finger food or NOT." Be careful, some of these are apparently tricky:
Mashed potatoes? I say not. Kids say finger food.
Spaghetti? I say not. Kids say finger food.
Cottage cheese? Again, not. Kids, finger food.
Grapes? I say finger food. Kids say not and try to stab them with their forks.
It's apparent from the above results that forks and spoons are incredibly underutilized in my house, to the point that I repeat "use your fork" so often that the dog is starting to wonder if it pertains to him as well. No buddy, you get to keep all four paws on the ground and enjoy your kibble.
My children don't realize that the utensils provided with each meal are to be used to eat with and not to create crater size dents in the kitchen table from tapping incessantly. In addition, my children are incapable of sitting in a chair at the table for longer than .00045 seconds. They stand while they eat with their hands. Even more attractive, right? I replay A Christmas Story over and over in my head as I watch them eat. "Randy, show me how the piggy's eat" (only 11 more months until that's on 24/7).
With the exception of chicken nuggets, sandwiches and sliced fruit almost all meals include some food that requires a fork or spoon.
Yogurt: spoon.
Cereal: spoon.
Mac 'n Cheese: fork.
See how that works?
So I ask you, do I blame fast food industry for creating such kid-friendly, finger-accessible, utensil-less options that our children forget how to use the shiny, metal objects with rounded edges and pointed prongs? Or is it just at my house? Because, seriously, stick a fork in me…I'm done.