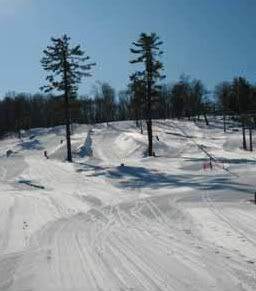 I skied once.
I was 27 years old and we went to SugarLoaf or SugarBush or some Sugar Mountain. I hated it. I stood up, fell down, ran over some poor 5 year old holding onto the tow rope, fell again, swore, fell and tried to take a lesson. The instructor kept telling me to keep my knees apart. I don't think it was a pick up line. But I wanted to shout back, "Do you think I'd purposely cross my skis every 3 feet because I enjoy falling on my ass?" After that quick lesson I went straight to the lodge to call it a day. Sounds like a fabulous time, right?
So why on earth would I sign my kids up for skiing lessons?
Because I don't want them to grow up in New England and hate the mountains. Don't get me wrong. I love the mountains – in the summer. We trek to New Hampshire every July and enjoy lots of fun-filled family events. But in winter, I hibernate. I decided there is no reason my kids should follow in my footsteps.
This will be their second year of lessons at Ski Bradford, Haverhill. They'll actually be in the same group this year, which should be fun. They loved and hated it last year, but when I asked if they wanted to ski this winter, or perhaps try dance or gymnastics in a warm building, they both chose skiing.
The Little B clinics at Ski Bradford include both skiing and snowboarding for those 3 years of age and older. The area isn't overwhelming to new skiers, and they host fun events like Radio Disney and Comcast Day with Sponge Bob. To me, the more fresh air they get during the cold winter months, the better.
Sadly, neither their Dad or I will be able to enjoy this winter past time with them because he doesn't ski either, but we'll load them up and drive to meet friends and we'll wave from the lodge as they zip down the mountain and back up again. Now THAT sounds like a fabulous time!