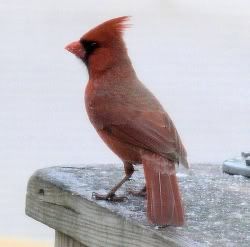 Winter can be a great time for bird watching. One way to entice them into your yard it to provide food. There is something beautiful about seeing a bright red cardinal against the snowy white ground.
The easiest way to draw birds into your yard is to provide plants that they can eat and hide in as well as fresh water to drink. Last year, I posted this craft I did with the kids.
Here are a few more that you can do.
Tortilla Wrap bird feeder:
Buy some plain tortillas, soft tacos or wraps.
Use your holiday cookie cutters to cut out shapes.
Use a straw to "punch" a hole in the top of the shape.
"Paint" the shapes with food coloring.
Put them on a lined cookie sheet and bake in the oven - you'll need to watch - low temp just long enough to dry them out.
String them up with colorful yarn.
Hang them on the trees outside for all to enjoy. The critters outside will eat them and then the birds will use the yarns in their nests.
Bagel Bird Feeder:
Take some day old bagels and coat with peanut butter. Then roll in bird seed and attach with a string.
Frozen Bird Feeder:
Cut some fresh fruit and place it in a shallow dish with a string hanging out. Freeze.
Remove from the container (you may have to place bowl in a larger container of warm water). Hang outside and watch.
Soda Bottle Bird Feeder:
Take an old 2 liter soda bottle and remove the label.
Cut two small holes in the top near the cap and put a string through it. Cut some quarter size holes for birds to get food from.
Cut a smaller hole beneath that and put a stick or wooden dowel through for birds to stand on. Fill with your favorite bird seed.
Nesting Bag:
In early spring, take a mesh bag (an onion bag works great) and fill with the following:
String
Non Metallic Ribbon
Yarn
Pet Hair
Hang outside and watch as the birds take the material and build nests.
Later in the spring, see if you can find some colorful nests in your yard!