...and his name is Clay Buchholz.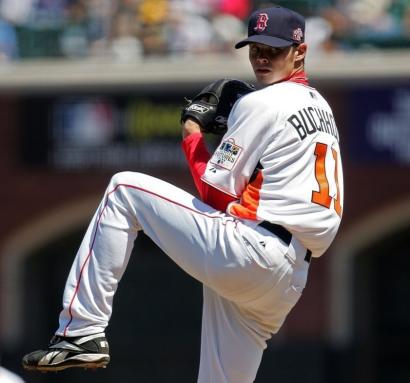 Holy No Hitters, Batman.
Did you see this kid tonight? If not, you missed a piece of baseball history.
The word phenomenon gets tossed around a lot in the baseball world, but in this case, it's completely justified. He was phenomenal. The incredible play by Pedroia in the 7th was what tipped it over for me and I thought "He might actually manage this." Twenty-three years old, second major league start ever (ever!!) and he throws a no-hitter. That is not something that happens every day. The last time it happened for the Red Sox was in 2002, with Derek Lowe pitching.
There's a point during every season, it seems, when I start to realize that we're either going to go all the way or fail (again). Tonight was the night that I started to think we may actually pull this off again. I don't want to crow too loudly or get too cocky because, as I've said before, I'm extremely superstitious when it comes to my Red Sox. But tonight they team was on fire. The defense was outstanding, the pitching, of course, incredible. If we keep playing like this, we'll be golden.
Let's just not say that too loudly....
p.s. - bonus points to anyone who gets the title reference.