Fall has tricked me into loving it. I used to whine over the end of summer, but somehow I've learned to love the leaves, the feel of the air, the shorter days, the corn mazes and hay rides and pumpkin picking.
But, I really love picking apples.
Every year we go apple picking, and this year I decided to try a place I'd never visited before: Honey Pot Hill Orchards.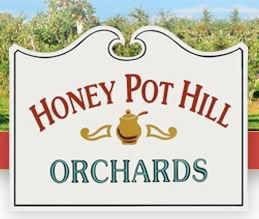 Honey Pot Hill Orchards is in Stow, MA and is perfect if you want to turn apple picking into an outing versus something you do just to get apples. Because, as you know, it doesn't take that long to pick apples even if you're going for the gigantic, two-hands-needed bag like we do.
Before I go any further though, I have one piece of advice for anyone wanting to go to Honey Pot Hill: go mid week. We went on a Tuesday in late September and it was perfect---bustling with people but not crowded. Lines to buy our bag for apples or to get on a hayride were reasonable. Parking was plentiful. I cannot, though, imagine how busy this place must be on a weekend, especially as we're approaching the end of apple season in New England.
So, I recommend you pull your kids out of school or daycare, call in sick from work if necessary and go midweek.  Don't feel guilty: there were loads of school trips coming through when we were there, so I daresay there is even an educational angle to visiting an orchard.
On the day we went, we first hit the mazes. They have a large "Hedge Maze" which had me reciting every line I could remember from The Shining. Seriously, they should spray that thing with snow on Halloween night and let people loose in it while someone chases them with an ax. Or. . .maybe they shouldn't.
There is also a "Tunnel Maze" in one of the barns which I was relieved was only for kids to crawl through. Both mazes asked for a nominal fee to be left, honor-system style in collection boxes at the entrance.
For kids who like animals, there is a cute "three little pigs" pen with, you guessed it, three little pigs. And, the goat pen in the center had all my kids enthralled for quite some time.
After buying our bag and a ticket for the hayride, we took a  quintessential New England hay ride out to the orchards.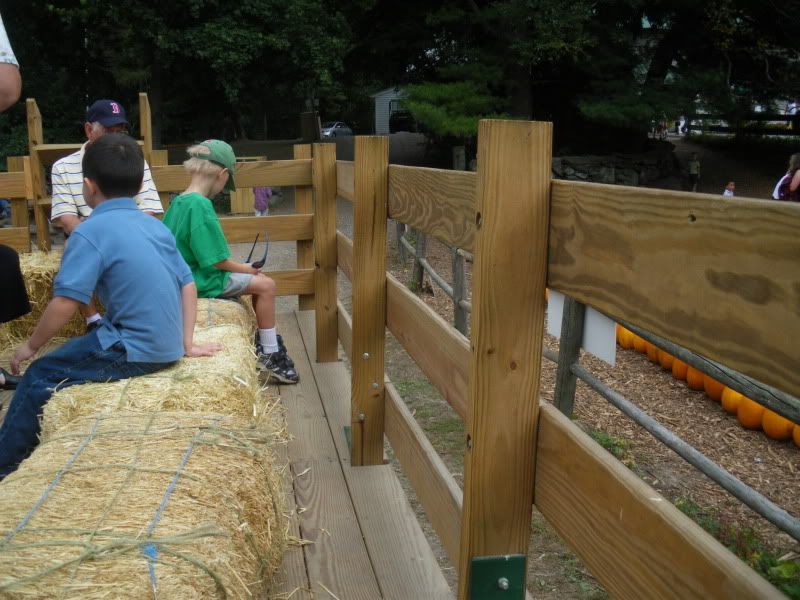 Here is where I fell hard for Honey Pot Hill. First, there were no signs admonishing us to keep the apples away from our mouths. I mean, one of the greatest joys of going apple picking is eating an apple right off the tree; I hate being told I can't do this. If an orchard can't afford to let pickers eat an apple or two, they should raise their prices to account for those eaten while picking.
The other thing that made my kids swoon was that there were ladders perched up against the trees so that the kids could climb up to pick apples. My kids didn't need to be asked twice. I'm surprised I didn't forget someone in a tree.
After lugging our apples back to the hayride (and admiring the too-smart women who had thought to bring this along), we hit the Apple Shop for warm, sugary cider donuts, honey sticks and a gallon-jug of cider. I think you lose your Massachusetts license if you try to leave without buying some of their donuts, because no sane person could resist those things.
And, yeah, about three weeks later, I'm still using up the apples.