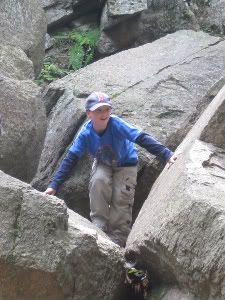 Early this fall, on an unusually warm New Englandy kind of day, my family of four was itching for something to DO. School had just started, and the boys needed some serious breathing room after spending the last few days confined to a classroom.
We Googled and Mapquested and consulted the Magic 8 Ball until we found a place where they could burn off their back-to-school energy.

Purgatory Chasm in Sutton, MA.
The name says it all.
 Because after one look at the towering cliffs and jagged "path" of the chasm, the word Suffering, may, in fact, be the first thing that comes to mind.
Most likely formed about 14,000 years ago at the end of the last ice age, it is a quarter of a mile of granite walls, cliffs and caves.  A little piece of natural wonder right here in Massachusetts. 
Or, in the eyes of a seven year old boy: paradise.
The Second Grader pulled on his spelunking hat and adventurer spirit, and began the business of exploration.  He leaped and bounded his way over the boulders with newfound balance in his steps, ignoring our cries of Wait for us!.  Probably for the first time that week, all was right in his world. 
The Four Year Old, equally as enthusiastic with nature's playground, needed some assistance and hand holding as we navigated the rocks.  Actually, I'm not sure he thought he needed help, but I was too afraid to let go of him for fear of losing him beneath a layer of centuries old glacier rock, and having him forever stuck in the underworld of a Massachusetts state reservation.
The boys spent the next hour exploring hidden caves and crevices while The Husband and I tried to avoid ankle sprains and any other situation that may have required first aid on our less flexible bodies. 
After we maneuvered our way through the chasm, the terrain became flat and there were several different trails to choose from to continue our hike.  We walked an easy, gentle loop until we made our way back to where we started, and came face to face with the obstacle course of boulders once again.  

Those mounds of rock seemed to taunt us as we stopped and stared and wondered if we had the strength to climb back through to the other side.

It was at this point when I realized that I hadn't packed enough provisions.  The boys had already plowed through apples and granola bars, and I knew that if we didn't get out quickly, we would be stuck in the woods in an eternal low-blood-sugar damnation.  You would think that after almost eight years of motherhood, I would have the snack thing down.  In my defense, I didn't think we'd be out long enough to have to deal with the hunger emergency that was about to ensue.  You know what I'm talking about: when the seemingly innocent growl of a child's stomach turns them into a head-spinning Linda Blair.   
Not something I wanted to stick around for.  Plus, we didn't have a whole lot of time to wait around for an exorcism.
Fortunately, My Husband found ANOTHER WAY OUT.  One that bypassed the rocks.  Those rocks that were all good and fun on the way in, but now, on the way out, looked like an impossible and torturous journey through meltdown hell.   
We sprung into action and hurried the boys along the last stretch of trail as fast as we could, despite their slow and on-the-verge-of-whining pace.  We suffered through I-Spy, Twenty (long) Questions, and a few (short) shoulder rides.   Whatever it took to get us out tear and tantrum-free.
Just as we took our last steps off the trail and into the salvation of the parking lot, the cries of the wayward travelers began.
I'm soooo huuuungry!
and:
I caaaan't walk another second!
and the ever famous:
When are we going to beeeee there?
Yeah, we made it out of Purgatory just in time.
Purgatory Chasm is an amazing spot and free to the public.  You can choose to bypass the chasm and stick to the walking trails, which run just above and along the rocks.  Oh, and be sure to bring lots of snacks!