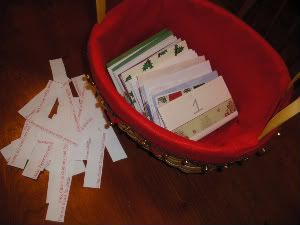 I used to approach December with a mixture of dread and excitement---there are so many things I want to do with the kids, but it always seemed that I'd try to cram all that "Christmas cheer" into the few days leading up to the 25th.
A few years ago, I decided to use the idea of Advent Activities to help us celebrate the holidays day-by-day instead of in one blur, and it was when I saw this awesome idea on Kiddly that I knew I had found our method.
Making my first-ever trip down the scrapbooking aisle of Michael's, I bought a bunch of holiday-themed paper and folded them into little envelopes. On the front of each envelope, I wrote the numbers from 1 to 24, and put them in order.
Into each envelope, I put a simple activity we can do that day. I keep a separate sheet with all the activities listed so that I can decide, at the last minute, if we need to shuffle our days around. This comes in handy when I don't have the energy for the proposed "Trip to See Santa". And, as I wrote on my post for Cool Mom Picks, it's amazing how many holiday "chores" I can get the kids to do using this method, from stamping my Christmas cards to wrapping gifts.
If you want to try this out, don't worry about making fancy envelopes or even running out to buy an advent calendar on November 30 (the pickings are slim by now, trust me).  Grab a stack of white envelopes, print out my handy list of ideas, add your own traditions and you'll be ready for December 1.
Christina's Advent Activities
Suck on an orange through peppermint sticks
Make cinnamon ornaments
Put out treats for birds
Hannukah dinner & story
Sinterklaas: leave shoes out with treats for horse
Buy decoration to hang by front door
Make paper snowflakes
Gingerbread House decoration
Dress-up dinner
Visit Santa for photos
Homemade holiday craft
Stamp Christmas cards
Visit LaSalette Shrine
Color Christmas pictures to mail
Wrap Daddy's presents
Paint toenails green and red
Breakfast for dinner with hot cocoa
Christmas movie with popcorn
Make Christmas cookies
Watch The Nutcracker
Everyone buy gift for needy family using own money
"Secret Santa" a neighbor
Sing carols on phone to grandparents
Drive around and look at lights
Read Night Before Christmas & put out treats for Santa