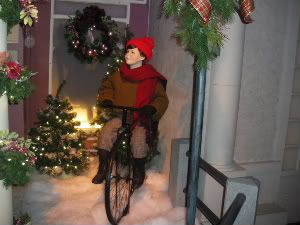 . . . is for tele-porters to be invented already. Is that too much to ask?
Really, it's the 21st century - shouldn't we be able to zap our molecules to B.J.'s to pick up our holiday necessities and then zap back home?  Can you imagine how much less stressful a New England winter would be if we could just zap the kids to school and then zap ourselves to work? No shoveling, no taking our lives into our hands trying to drive the short trip to the store at 20 miles an hour, no picking our way through icy parking lots and risking a broken limb?
Everyone would totally chill out about the holidays, too. Forgot something crucial for Christmas dinner but the stores are closing soon? Tracked down the perfect gift for your daughter but the only place they have it is an hour away? Just say, "ZAP it, please!" The time-saving possibilities are amazing, aren't they?
I know it's not practical to wish for something I'll never have, and I'm sure there are lots of times that instantaneous travel could be problematic (in-law pop-in visits, anyone?) but I could really use one right now. We are planning a 10 hour road trip the week after Christmas with two holidazed* kids and more than anything, I wish I could zap us all straight to my parent's house and skip the whole painful traveling part.
____________________
*Holidazed: the unnatural state of excitement brought on by the rising tide of expectations in December. In children, this state is characterized by louder voices, more fighting, more singing, more crying, more sugar eating, more whining, more... everything.