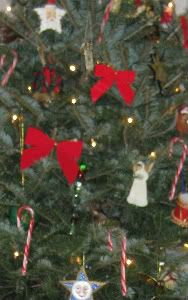 Dear Santa,
I know it's kind of late in the game (what can I say, I'm a procrastinator), but I'm hoping you get this letter in time for the BIG DAY.
My list is rather short this year. In fact, I don't really need anything at all. I've got a pretty good thing going: healthy children, a loving husband, a roof over my head and bills that are paid.
So, just so we're clear, this is not a complaint letter.
But there is one little thing I was hoping for this year (besides a complete kitchen renovation because who are we kidding?). I don't even know if you have the ability to pull this one off, but here it goes…
All I want for Christmas this year is a few hours of peace a day.
Specifically, I would like peace and harmony between the dreadful hours of 5pm and 7pm. I would like dinner to make itself. I would like homework to be completed and brothers to get along. I would like Ben 10 Alien Force to be turned off, and my ipod speakers to be turned on.
I would like a warm house, tidied toys and clean bathrooms. I would like smiles at the dinner table and boys who eat more than one baby carrot before breaking out into a full blown why-do-I-have-to-eat-vegetables whine fest.  I would like everyone to achieve clean-plate club status, and then I would like for the dishes to fly themselves into the dishwasher, and for the counter tops to activate the self-cleaning function.  Finally, I would like children tucked cozily into bed where they will dream happily until morning.
But if all of this is too much to ask? I'll just take the part about boys eating their vegetables. And the self-cleaning counters because how cool would that be?
Thanks in advance, Santa!
xoxo