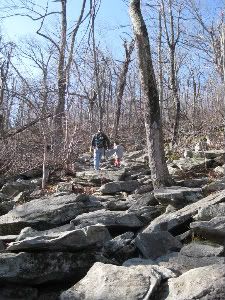 We had another, and probably one of the last, gorgeous 50 degree days a few weekends ago, which called for another trek out into the great wide open. The kids are starting to think of our little excursions as less torture and more adventure (I think).
We drove out to Wachusett Mountain State Reservation. Like most, I immediately think 'ski mountain' when I hear Wachusett, but there are about 17 miles of hiking trails just past the ski lodge.
Once we arrived, our first stop was the Park Information Building for a pit stop and a copy (or three) of the trail maps, because getting lost in the woods and starring in our own version of Blair Witch is on my long list of irrational fears.  Inside the Information Building, we were greeted by an uber-friendly park ranger who was handing out Cliff Bars and trail advice, both free of charge.  
After consulting the trail map and the Friendly Park Ranger Man, we decided on our route: the Bicentennial trail to the Loop Trail and up the summit via the Harrington Trail.

The trails were a bit muddy as we began the climb up to the summit.  The Second Grader was less phased and steadier on his feet than The Four Year Old, who needed some hand holding through the muck.  He only found himself ankle-deep in mud once, which is pretty good for his little feet.
As we veered off onto the Loop Trail, the trail turned from mud to rock.  Steep, climbable, boy-haven, kind of ROCK. 

The views were amazing, the trails were (almost) empty and the boys weren't complaining (much). 
What more could we ask for?
(other than a Starbucks barista brewing lattes trail-side)
At last, we huffed and puffed our way to the 2006 foot summit. 
And came face to face with not only a breathtaking view, but with an enormous cell phone (I think) tower.  And people.  Lots of people.  
Kind of a blow to the ego when, after climbing to the top of a mountain you are greeted by a giant tower, picnic tables, grills and crowds. What?  You mean we weren't the first ones here? 
Nonetheless, we chose an empty picnic table, ate our packed lunch and took in the view of fellow hikers doing the same.  It was a beautiful day and, had the skies been a little clearer, we probably could have seen Boston. 
Once the last crumbs of our lunch were gone, we began our descent.  Because, inevitably, what goes up, must come down.  And going down?  Much more difficult than going up.   Especially, in the mud.  With tired children.
I'll spare you the details of the last half of the hike because who wants to read another post about whiny kids and their parents who blog about them?
All you need to know is that we made it safely back to our family station wagon with no major injuries, and with a plan to go back and check out the many other trails.
So the next time you find yourself at Wachusett Mountain without your skiis?  Strap on your hiking boots instead and climb your way to the top.