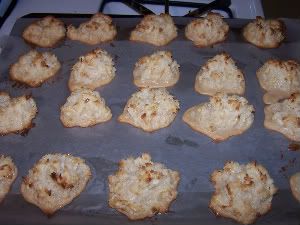 It's cookie-baking season!
One year, in a fit of temporary insanity, I made six different types of cookies. In one night.
This was one of the recipes I used, courtesy of Ina Garten. I love her. She obviously loves food and even though her show can be a bit precious, her recipes are dead on. This one is no exception.  They have the added bonus of impressing the pants off of whoever receives them, which could be a nice bonus, depending on the givee. I'm just sayin'....
Now, caveat here - make sure you use parchment paper and not waxed paper. I used waxed paper the first time and it was a disaster. The bottoms of the cookies stuck to the paper. The tops were
quite, quite edible, but not really giftable.
The other note I will make about it is that you need to watch these like a hawk while they're baking. They go from GB&D (golden brown and delicious) to burnt in about a quarter of a second.
Ingredients

    * 14 ounces sweetened shredded coconut
    * 14 ounces sweetened condensed milk
    * 1 teaspoon pure vanilla extract
    * 2 extra-large egg whites, at room temperature
    * 1/4 teaspoon kosher salt
Directions
Preheat the oven to 325 degrees F.
Combine the coconut, condensed milk, and vanilla in a large bowl.
Whip the egg whites and salt on high speed in the bowl of an electric mixer
fitted with the whisk attachment until they make medium-firm peaks.
Carefully fold the egg whites into the coconut mixture.
Drop the batter onto sheet pans lined with parchment paper
using either a 1 3/4-inch diameter ice cream scoop, or 2 teaspoons.
Bake for 25 to 30 minutes, until golden brown.
Cool and serve.
Or, find a cute little gift box, drop a few cookies into it and give it as a gift to your favorite teacher, party host or that babysitter you want to butter up. These cookies are good at that.