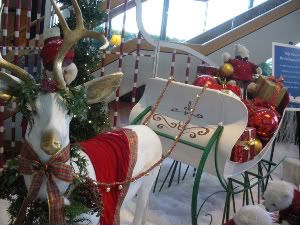 In the past week, I've spent $70 mailing gifts to far-away relatives, about $50 on stamps, and I'm-not-talking-about-it on gifts. . .let's just say that my entertainment budget is pretty much shot for the rest of the month.
But, free? I can do free! And earlier this week, my family and I took a trip up to Jordan's Furniture in Avon, MA to check out their Enchanted Village for a big dose of vintage Christmas cheer.
Did I mention that it's free?
One of the coolest things about the Enchanted Village (besides its cost), is that it has a story like the Island of Misfit toys. Once a holiday staple in the city of Boston, primarily in the windows of the downtown Jordan Marsh department store, the many vintage displays were put into storage due to lack funding and put up for auction in May.
Fortunately for all of us, Jordan's Furniture purchased the Enchanted Village, restored it and set it up in a permanent holiday display in their Avon location. The display is open through the holidays, hopefully for years to come.
Like many holiday "must sees", I recommend that you time your visit right or you will "pay" by standing in a long, long line to enter. Fortunately, the display is set up indoors, so you won't freeze, but you may wait a while. We went on a Wednesday afternoon and waited at least 20 minutes before we were inside the display area. I overheard that there are often a hundred people waiting for the doors to open at 10am (Sunday doors open at 11).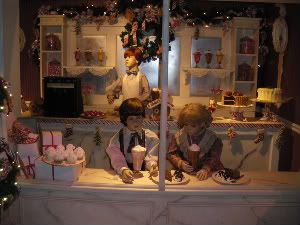 Once we made it into the showroom though, we saw over a dozen nostalgic scenes of Christmas, from the old soda fountain shop to the barber shop, all with mechanized people, animals and props. The details are amazing, the charm definitely old fashioned, and it can take a few minutes to take in a single scene.
Plus, it's like a little history lesson for the kids. "See? That is a record player. . . " "That's an old-time tricycle". "Yes, little boys really did wear knickers with tall socks".
Every few minutes "snow" blows from the ceiling, making the kids run around in circles as they try to catch the flakes.
My five year old was completely and utterly entranced by the snow. He is now asking for a snow machine for Christmas.
Walking past the displays does not take a long time, about 15-20 minutes depending on the crowds and how fast you walk. Strollers can make the winding, roped-off walk fairly easily although if there is a crush of people, you may run over a few toes. 
Once you exit the room, you'll be spit out to another large room where Santa sits for photos. There are other attractions to see as well, like a Holiday Laser Light Show and a Polar Express 4D Ride, but you'll need to buy tickets for those.
But make sure you bring $10 for a box of the infamous Jordan Marsh Blueberry Muffins which were resurrected with the launch of The Enchanted Village. They need a little time warming in the oven to make them taste extra awesome, but look at the drive home with a box of fresh muffins sitting next to you as a test of your willpower. Or, better yet, just pack them into the car trunk for the drive.