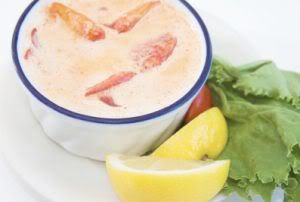 It is a cliché, I know, to eat lobster in the Northeast. But it's what we do, even if that means feeding into the stereotype.
I have a confession to make, though. I'm not a native New Englander. I'm a transplant. I grew up in the great state of New Jersey: home of big hair, shopping malls and Bruce Springsteen.
My parents, on the other hand, were born and bred in a rural cow-tipping-is-a-sport town in Maine. . .
One could argue, nonsensically at best, that, as a child of hearty New England stock, I was a Northern Jersey immigrant. I was the lone Anglo-Saxon-heathen living in a state of Catholic Italians.
I tried to acclimate, but it wasn't always easy. I spent my summer vacations in a rustic A-frame on the coast of Maine instead of rented shore house on Long Beach Island. We mail ordered from LL Bean more often then we battled the war zones of the Willowbrook Mall. My classmates carpooled to  CCD (I still don't know what that stands for) on Wednesday afternoons while I watched my mother lead 4-H meetings in our basement. And when my friends did come over to our house, they squished up their noses in confusion when they heard my parents speak. A Maine accent may very well be the polar opposite of a New Jersey one.
But, in reality, it wasn't all so terrible. Because once a year, on Christmas Eve, my father would disappear into the kitchen. The giant lobster pot would be brought out of its dusty home beneath the cabinets, and water would be put on to boil. He'd submerge a few unsuspecting lobsters into the water, and, once they turned a magnificent shade of red, he'd spend much of the afternoon cracking shells and pulling out thick pieces of lobster meat.
The end result would be a beautiful buttery, milky Christmas brew of lobster stew.  
A little bit of our coastal Maine roots on our suburban New Jersey dining room table.
Even today, many years later, it's not Christmas for me without a hot bowl of lobster stew on my plate. 
Except now that I'm living in Boston, it's a cliché instead of a novelty.
What is it for you? What reminds you of home?
Lobster Stew Lobster
meat from two 1 pound lobsters

Simmer lobster meat in ½ cup of butter until butter turns red.

Simmer slowly (this is KEY!)

Remove from heat and slowly add a quart of whole milk, a splash of (good) sherry, salt and pepper.