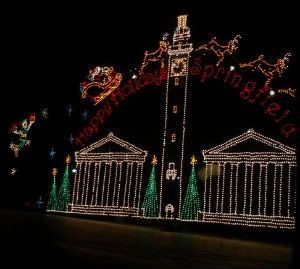 Growing up, Christmas always meant a visit to Whipple's Chapel.  Every year.  Whipple's Chapel was a vast Christmas display of over 6,000 lights in our current hometown.  It featured Macy's window style displays of Christmas scenes.  Occasionally, a new display was added, but it always remained almost the same.  Run entirely by volunteers, it was a holiday tradition.  I looked forward to visiting with my family and meeting Santa Claus.  For 35 years, people traveled from all over the country to visit.  Father Christmas, Mr. Whipple himself, was there every night, shaking hands and counting visitors, always with a smile on his face.
Christmas Eve, 2001, I brought Einey, my daughter, with a tear in my eye.  It would be her first and only time to visit this wonderful place.  Santa wasn't there – he was out circling the globe, delivering toys to all the good little girls and boys.  But I had to bring her, just that once.  I slowly carried her through, despite her young age of 364 days.  Knowing she'd never remember, never look forward to this right of passage.
We've since found another wonderful place to visit.  It's a bit of a drive, and thus, we've only visited a few times.  Bright Nights Springfield is sure to put a smile on your face, young or old.  More than 600,000 lights line the 2.5 mile drive of Forest Park, Springfield (rumor has it there's a zoo here, but we've never visited during the day).  At a cost of $15-$18 per vehicle, it's an inexpensive way to usher in the season.
As you enter the park, you're advised to tune into a specific radio station which is set to accompany your drive through the park.  Yes, it's a drive-through display, so no matter what the weather is outside, you can stay nice and warm in your vehicle.  Once you pass through Who Ville, make sure you stop in at Santa's Cottage to say hello to the Jolly Old Elf himself.  While you're there, grab a cup of hot cocoa to sip on your way.
We look forward to making memories in Forest Park, and giving our girls that special once a year event that they can look forward to every year.  After all, new traditions can be just as memorable as old traditions.