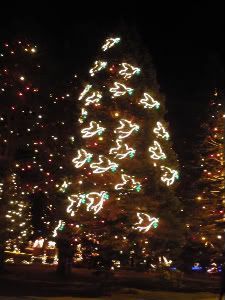 OK, first a quick disclaimer: I am not religious, so the title of this post is not my sly attempt to cram religion down anyone's throat. But, I do think there is something to be said for reflecting on the story of Christmas, so it was in this spirit that we went to visit La Salette Shrine in Attleboro, MA.
I'd heard of La Salette for years but it was usually along the lines of, "Oh my goodness, you wouldn't believe the traffic jam to get into the parking lot" which doesn't exactly get me rushing anywhere. But, this past Tuesday, just after sundown, the kids and I went to see what so many people go to see year after year.
We're believers now. This place is pretty cool, no matter what your religious beliefs, although be prepared to discuss Christianity if you decide to go. And, as one of my friends pointed out, when it's crowded, it's easy to feel a bit uncomfortable with all the praying, tears and reverence if you aren't of that faith.
But, since we went on a very quiet night, we had plenty of room to enjoy the space in our own way. My kids listened quietly as I explained to them the story of Jesus and his crucifixion (a Catholic upbringing and PC education give me some credentials to get the story right). Watching a few people reverently kneel up the Holy Stairs to the crucifix was quietly powerful. Reading the story of Mary's appearance before two girls in the French village of La Salette helped make sense of the name of the place my kids had never heard before. Seeing an elderly, wheelchair-bound man laugh at the live donkey next to the nativity scene made us all smile.
Oh, and the lights! The lights were breathtaking and everywhere. They sparkled and blinked, in white and in colors. They spelled out Peace on Earth. They ringed a large pond and a tiny gingerbread house.
And, there was a carousel. I had to bribe my kids with ice cream to get them to leave.
Details:
National Shrine of Our Lady of La Salette is located on Route 118/Park Street in Attleboro, Massachusetts. It is open to the public every day until January 3 from 5-9pm.
Parking is in a large lot in the middle of everything. Strollers would be fine for about half of the grounds; the other half has steps. Kids are welcome throughout although we did have a long talk about respect and keeping voices low so as not to disturb anyone's thoughts.
Keep in mind that this is a MAJOR attraction at this time of year. If you can go midweek, I'd recommend it, especially if you can get there at 5pm when it opens. If you must go on the weekend, bring snacks and your patience in spades. Bus trips are common, so think "crowds".
Another option would be to go after Christmas; since they are open until the 3rd of January, I would think that crowds thin out after the big day.
And, did I tell you the best part? It is all FREE. The only thing we paid for was the carousel ($3 a child), plus there are huts selling hot chocolate, hot cider and other snacks. We did make a donation to help La Salette convert their lights to LED bulbs (can you imagine what their electric bill must be? Oy.)
After seeing the lights and getting sufficiently cold (dress WARMLY!), take a left out of the lot and head about a half-mile down the road to Bliss Bros. Dairy for ice cream. I know ice cream may not be at the top of your list on a cold winter's night, but it's worth it. Their peppermint ice cream hot-fudge sundae is heavenly.