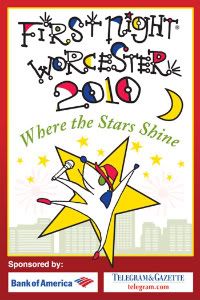 New Year's Eve is almost here!
For many of us, gone are the days of fun parties, clubs and, quite frankly, just staying up to midnight. Why was it a good idea to have kids? I'm just kidding! Plus honestly, these days, staying up to midnight can be a feat and that has to do with getting older not having kids!
However, now that we do have kids, our New Year's Eve plans have definitely taken a different turn. I'm always keeping my ear out for fun New Year's Eve plans and recently have had a couple conversations about First Night.
A couple years ago we took our then four year old and 18 month old to First Night Worcester. I had been to First Night Evanston (IL) a couple times before having kids and enjoyed it. I suspected that it would be similar. Of course the key phrase was "before having kids and enjoyed it"!
So what exactly is it? 
It's a smorgasbord of different community events from dancing to crafts to storytelling and various shows. The events feature various types of art, and they're alcohol free. Because of this, they're very family friendly but as already mentioned I first went to a First Night before having kids and enjoyed it too. I subsequently went again the following year.
Like other First Nights, First Night Worcester has a lot of different things going on with a shuttle bus to transport people from location to location. Each location has a different event and sometimes a different theme. For example, one location may have an animal-encounter type show, another a sing-a-long, and we watched some ballet at yet another place. Overall we had a good time and my four year old definitely seemed to enjoy it.
I do have a couple of suggestions though.
First, if possible avoid using a stroller. I found many of the places to not be stroller friendly. Plus if you're planning on taking the bus from location to location it will be a hassle. And, of course, if there's snow a stroller can be more hassle than it's worth anyway.
Another suggestion would be to plan out the events you want to see ahead of time. Check out the website and figure out what exactly it is you want to do. Just like with a European vacation or Disney World, you want to prioritize. All joking around aside, if there's something specific you want to do, I would make sure to do it first. It's just like any other trip with little kids: you never know when you need to make a speedy exit. In order to get seats in the front for the animal show, we wound up seeing the end of the previous show, moving up to the front and then waiting for the next show. The show was top priority for us, but it was a bit of waiting and that did cut into my kids' limited attention span. The only aspect I didn't like, and this is pretty much unavoidable, was all the times the coats, hats and mittens came off and on as we went from outdoors to indoors at each place. There really isn't much you can do about this except to hope that it's warm enough that you can get away with minimal outerwear.
Have fun and Happy New Year!