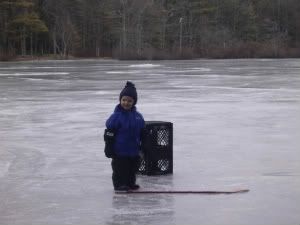 The Omen (II)  ruined me for ice skating on a pretty lake in the winter (no, I'm not linking to the scene; if you are too young to know it, consider yourself lucky).
Yes, that's my little guy standing on a frozen pond a couple of years ago, but it was after five days of sub-freezing weather  and seeing  250-pound ice fishermen walking on it before I could agree to let him out there.
It would figure I'd marry a guy who loves to ice skate and wants the kids to follow in his footsteps. And, while we could go to an indoor rink, I agree that there is something so quintessentially New England about skating out-of-doors. 
So instead of flashing the dreaded movie scene in my head every ten seconds, I've scouted out a few safe outdoor rinks that my kids and I can enjoy without me stopping every ten seconds to say, "did I just hear a crack?" We haven't tried them all, yet, but we will.  Feel free to add your favorites that are beyond my little corner of the world. 
We've played in the warm summer spray of Frog Pond in the Boston Common but once winter comes, this area becomes a big outdoor skating rink. Nestled in the middle of a park, it feels like a little frozen oasis with the skyline just beyond the trees. Kids under 13 skate free, and adults are just $4. Skate rentals available.
Providence also has outdoor skating in the middle of the city, at Kennedy Plaza (called The Bank of America City Center). More urban than Frog Pond, but still lovely at night when all the buildings light up. Kids under 13 are $3 to skate, adults are $6. Skate rentals available.
The newest game in my area is the Winter Skate at Patriot Place in Foxboro. It was packed last Saturday night as my husband and I walked by on our way to dinner, although I've also seen it at more quiet times during the day. The location of the rink isn't the greatest (in the middle of the parking lot), but I love the heated "tent" in which skates can be put on without freezing fingers. Kids under $12 cost $4, adults are $6. Skate rentals available.
Finally, closest to home we have the Yardley-Wood Rink in Easton, MA a free (yes free!) skating rink that is lovingly maintained by one of its namesakes who I often see clearing the ice on a quiet afternoon. On weekends, this place comes alive, with a big fire in the stone fireplace, music on loudspeakers, hot cocoa for sale in the hut, and a familiar face everywhere. Sure, the ice conditions can be iffy, but this is about as close to old-fashioned pond skating that I can find in a safe open location. Plus, it's free! Skates rentals not available, but there are sometimes used skates put out for sale. Little guys in boots (or non-skating parents) are allowed on the ice too.
Please add a comment about your favorite safe places to skate outdoors in the winter.