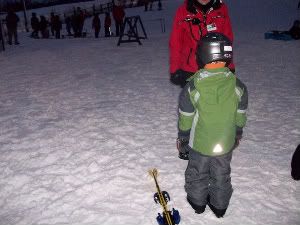 My husband learned to ski when he was 27, and I learned when I was 14.  While we both enjoy skiing, we do wish that we had learned how to do it when we were much younger.  I know this sounds crazy but there aren't very many places to ski in NYC or the Chicago suburbs were he and I respectively grew up.
Sarcasm aside, skiing wasn't as big of a deal for either of us growing up as it seems to be out here in New England.  Seeing as there are so many places to choose from to ski, it only makes sense.  Armed with the knowledge that what you don't know not only sometimes can't hurt you, but can actually be good for you, we enrolled our 6 year old in ski lessons.   At 6 he doesn't really get that he might break his arm, but at 16 or particularly 26 he will! 
So where does one go to do ski lessons?  
Well there certainly are your pick of places.  I heard wonderful things about the ski school at Waterville Valley in NH.  My triathlon training buddy put her 3 year old in it while she and her husband skied with their other 3 kids.  She said it was a wonderful program and would do it again.
I also heard terrific things about Wachusett Mountain in Princeton, MA. A couple of  friends said the instructor turn over  is low meaning there's a lot of consistency and also, therefore, that there's a lot of experience.  A friend of mine got together a few of her friends and was able to arrange for weekly group lessons for just them without the sticker shock of private lessons. 
Fellow New England Mama, Christine, sends her kids to Ski Bradford in Haverhill and has great things to say about it.
The other place that was recommended to us was Ski Ward in Shrewsbury, MA.  This is where we ultimately chose to go.  The program seemed good and a close friend of mine had already signed her kids up there.  Overall, I've been happy with it.  The first day was a little disorganized and for reasons I don't understand, they only had one person working to check everyone in at the ski lodge.  Needless to say, the line was backed out of the room.   Many of the instructors seem young.  However, there were a lot of employees out and about to point out where to go once we got outside.  We were able to flag down someone inside the lodge to help my son put his ski boots on since we were having a hard time with them.  All the rentals had stickers with the kids' names on it and were well organized.  The boots were in one bookcase inside the lodge, the helmets in the bookcase next to it, and the skis outside in the rental ski racks.  After the first lesson, we knew what to expect and where to go which made it a lot easier.  Of course I now also know to bring extra money to bribe my younger son with popcorn while we wait for his brother.  No, popping our own popcorn at home and bringing just doesn't cut it.  Trust me. 
As for me, stay tuned for my report on adult ski lessons.  Yes, I do like to ski, but it's been a few years.  I promised my older son that at the end of all the lessons that we would have a day where just the two of us will go skiing.  I think I'll be taking a class to brush up first!
I would love to hear any recommendations for ski places that you may have.