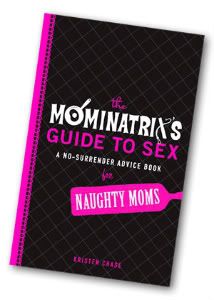 I know that whatever I get my husband for Valentine's Day, he really just wants one thing, and it's not found in a box of chocolates. 
So, this Tuesday, I'll be joining my friend,
Motherhood Uncensored's
/
Cool Mom Picks
' Kristen Chase, aka
The Mominatrix
, at Finale in Brookline to hang out with other local mamas for wine, chocolate and sex (talk). Hey, maybe I'll get some ideas for Valentine's Day. 
And guess what? You're invited too!
Along with the awesome local owner of Magic Beans, Sheri Gurock, and Dara Kelly of Peadpod Fitness, The Mominatrix will lead an informal seminar which is bound to include loads of laughter and some tips for spicing things up in the bedroom.
Kristen will also have copies of her book,
The Mominatrix's Guide to Sex: A No-Surrender Advice Book for Naughty Moms
, that she'll sign for you. Plus I'll be there, as will New England Mama
Tania
too, so don't worry about not knowing anyone. 
Hurry though and get your tickets because space is limited. They are only $5 and include a cool wine tasting, some delicious chocolates and some great company. 
Details: Date: February 9, 2010, 7-9pm 
Location: Finale (Coolidge Corner location) 1306 Beacon Street, Brookline, MA 
Fee: $5 gets you some wine and chocolate samples; food and drink (and books too) will be available for purchase. 
Other goodies provided by Mominatrix sponsor Eden Fantasys