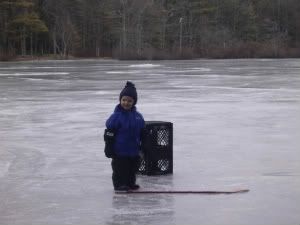 The Omen (II)  ruined me for ice skating on a pretty lake in the winter (no, I'm not linking to the scene; if you are too young to know it, consider yourself lucky).
Yes, that's my little guy standing on a frozen pond a couple of years ago, but it was after five days of sub-freezing weather  and seeing  250-pound ice fishermen walking on it before I could agree to let him out there.
It would figure I'd marry a guy who loves to ice skate and wants the kids to follow in his footsteps. And, while we could go to an indoor rink, I agree that there is something so quintessentially New England about skating out-of-doors. 
So instead of flashing the dreaded movie scene in my head every ten seconds, I've scouted out a few safe outdoor rinks that my kids and I can enjoy without me stopping every ten seconds to say, "did I just hear a crack?" We haven't tried them all, yet, but we will.  Feel free to add your favorites that are beyond my little corner of the world. 
Continue reading "Safe outdoor skating rinks for the skittish mom" »