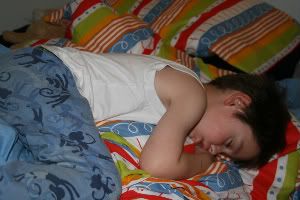 This week -
it's mid-November, and I'm trying not to be all, "How did that happen?" but seriously, how did it?
- is the week of the annual
Leonids meteor shower
.  Normally, I read about it, give passing thought to trying to watch it, and then decide that my interest in sleeping outweighs my interest in standing in the back yard craning my neck to catch a glimpse of a burning piece of rock hurtling through the atmosphere.
This year, though, I'm already in meteor-watching shape, having been honed to a razorlike keen ability to be awake for hours every night by several months of pregnancy.  This is not a skill I actively sought, though I'm sure it arouses the frank jealousy of friends and family alike, but rather one I achieved in between bouts of unrelenting morning sickness and the chaos of moving to a new state.  I'm learning that pregnancy in my 30s is a lot different (read: a lot harder) than it was in my 20s.
Anyway, I knew I'd be awake for some portion of the event, so after some consideration I decided to tell my kids about the potential astronomical wonder scheduled for the wee hours.  What's the use of being a total stickler for bedtime and routine if you can't break the rules sometimes?  They - ages 9 and 5 - were both very interested in the concept of being allowed to go wander around outside in the middle of the night, not to mention the chance to see a shooting star outside of a Dora the Explorer cartoon.
They went to bed, I followed a while later, and very dutifully woke up at 2:00 to check the skies.  Clear as glass directly overhead, hazy-building-into-cloudy at the horizon.  Not helpful, since the meteors were supposed to be originating down low in the east (which, having moved from mid-state New Hampshire to Salem, MA, I know where the east is now, what with all that ocean serving as landmark). 
OK, fine, back to bed for a while.  Check again at 4:00... same story.  At 5:00, the entire sky was cloudy, as if to dispel any vague hope of glimpsing one rogue higher-than-average meteor. 
So, a disappointing attempt, to be sure, and reinforcement that it was a seriously good idea to insist that my daughter let me wake her instead of setting her alarm clock.  They slept through the night, and comforted their early-morning disappointment with over-sugared cereal and plans to try to catch the Perseids meteor shower in August.
And I'm left with an inability to feel too horribly upset by it all, because the reason we couldn't see the shooting stars was the haze rising up off the ocean.  If we were still living in New Hampshire, in a house I hated and a town I found soulless and uninteresting, I probably would have been able to see any number of bright streaks of light across the sky.  Having moved, at the last minute due to a dream-job offer for my husband, seems like enough wish fulfillment all by itself.  Someone else can use our wishes from this particular set of shooting stars, we're still basking in the glow of a new life near the sea.