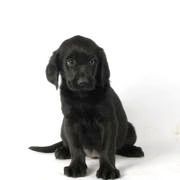 Who doesn't love playing with puppies?  Who doesn't love finding fun things for the kids to do?  What if you could combine both of those things and tie in the fact that it's for a good cause? 
Last week a moms' group I'm in arranged an outing to a place called NEADS in Princeton, MA.  NEADS trains puppies to eventually become service dogs.  I say "eventually" because the puppies leave NEADS at 16 weeks to go live with families and have further training.   They do not actually become official service dogs until they're about 2.  Part of the training for the NEADS puppies is to become familiar with children.   They actually want the puppies  to be around kids. 
Do you get where I'm going with this?  Are you getting the same sense of excitment that I got when I saw the email announcing an outing to play and snuggle with puppies!?!?!